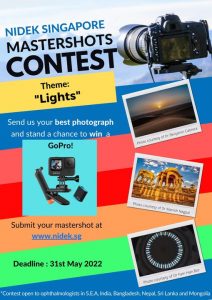 *Contest is open to all ophthalmologists S.E.A, India, Bangladesh, Nepal, Sri Lanka and Mongolia.
*Submit photos with a play of "lights" (theme)
*All digital or film cameras including mobile phones photographs are accepted
*All photos may be edited with software of your choice
*2 Winners will get a chance to walk away with a brand new GoPro!
*1 Winner will be selected by our honorable panelist
* 1 Winner will be selected by popularity votes on our Facebook page!
*Submission from 1st April to 31st May 2022. Winners will be announced on the 1st July 2022.
Share and like this post and follow our FB page for the latest updates!